I really loved the AMC show Breaking Bad.  It seems like only yesterday that my girlfriend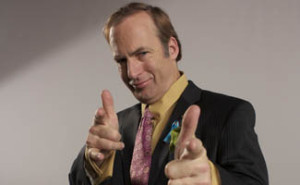 and I binged on it, getting through all the seasons in a couple of months.
This time I wanted to get an early start with the new spin off Better Call Saul and try something new – like watching it in real time, instead of having to go back and binge.
So far it is great.  The program has the same writing team as Breaking Bad, and some of the same actors.
Yesterday, in Episode 4, PR played a starring role.  But it was not the most flattering context.
In one scene, two lawyers were discussing their client, a couple who'd embezzled and were about to play a starring role in the news. the junior partner asked "should we get them a PR firm?"
The last act of yesterday's episode (spoiler alert) included a publicity stunt that Jim McGill (who eventually became Saul Goodman – as in s'all good, man!) engineered to drum up business while defending his budding practice from a much larger law firm.
The stunt involved a large billboard and dangling worker.  It is explained further in the latest NY Times wrap:
His goal, we soon learn, is to create a highway billboard ad for his law practice… And here comes the payoff: Jimmy has arranged for the man taking down the ad to feign a near-death experience, by "accidentally" falling off a landing and dangling from a rope 65 feet in the air. With a hired film crew capturing every moment, Jimmy rushes to the rescue, ensuring TV and newspaper coverage for a great story: Solo practitioner bullied by big law firm saves workingman's life.
Law and PR, not such strange bedfellows. You often see lawyers acting as spokespeople – yet, looking at it from the PR side, we instruct clients not to be too legalistic in how they approach the media and public.