I am very much looking forward to Social Tools Summit (#SocialTools16) in Boston on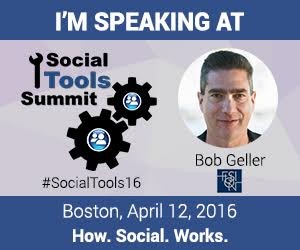 Tuesday April 12, where I will be speaking about influencer marketing.
Neal Schaffer and Brian Mahony invited me back following last year's Boston event, which was a blast (see my blog wrap), and I jumped at the opportunity. It looks like it is shaping up to be another great event. The day will be packed with informative sessions, tech demos, and a nice range of speakers and panels.  You should really check it out if you work in social media, and are trying to get your arms around the state-of-the-technology.
PPC expert Larry Kim will be keynoting.  The panel I'm on has good mix of consultants and client side practitioners:
If you haven't registered, it isn't too late. I can offer blog visitors a discount code; just send me a note or put in a request via comments below.
Thanks! Hope to see you in Boston.